Atoms, Elements and Compounds – Worksheet
$10.00
Worksheet to accompany the lesson Atoms, Elements and Compounds.
Click cover for full preview. Scroll down for product information.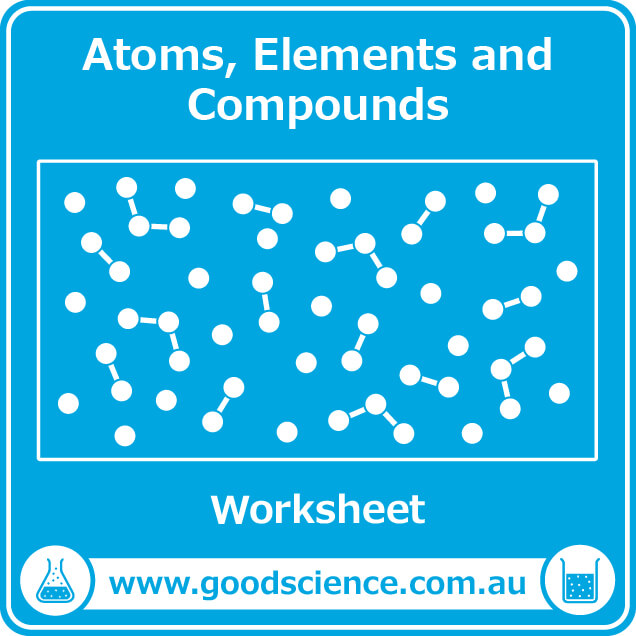 Description
Worksheet Contents
This worksheet covers revision of Year 9 content:
Valence shell and valence electrons
Cloze activity (fill in the blanks).
Table-completing questions.
Teacher version containing complete answers.
Aligned to the Australian Year 9-10 Science curriculum.
Learning Outcomes
By the end of this worksheet students will be able to:
☑ Explain what an atom is.
☑ Describe the subatomic structure of atoms, including protons, neutrons, electrons, nucleus and electron shells.
☑ Define atomic number and mass number.
☑ Explain what isotopes are.
☑ Describe the distribution of mass and electric charge within an atom.
☑ Explain how electrons shells are filled.
☑ Write the electron configuration of the first 20 elements.
☑ Define valence shell and valence electron.
☑ Describe a molecule and a lattice.
☑ Compare an atom and an ion.
☑ Define element and compound.
☑ Describe the arrangement of atoms in elements and compounds.
☑ Identify the type and ratio of atoms in a compound, based on its formula.
This resource is also included in the Year 10 Chemistry PDF Workbook.
Click here for Ordering Information and Terms of Use