Learning Objective
In this lesson we will learn about the structure of DNA – the molecule that carries genetic information in living things.
Learning Outcomes
By the end of this lesson you will be able to:
Describe the structure of nucleotides – the subunits of DNA molecules.
Describe the structure of DNA molecules, including:
• The types of bonds that hold DNA molecules together.
• The base-pairing rules in DNA.
• DNA's double helix structure.
Explain how DNA molecules carry a 'genetic code'.
Introduction
All living things have

genetic information

stored in

large molecules

called

DNA

(deoxyribonucleic acid).
DNA is stored in the

nuclei of cells

, where it is packaged into

thread-like structures

called

chromosomes

.
The

order of the subunits

that make up DNA molecules

encodes the genetic information

of an organism.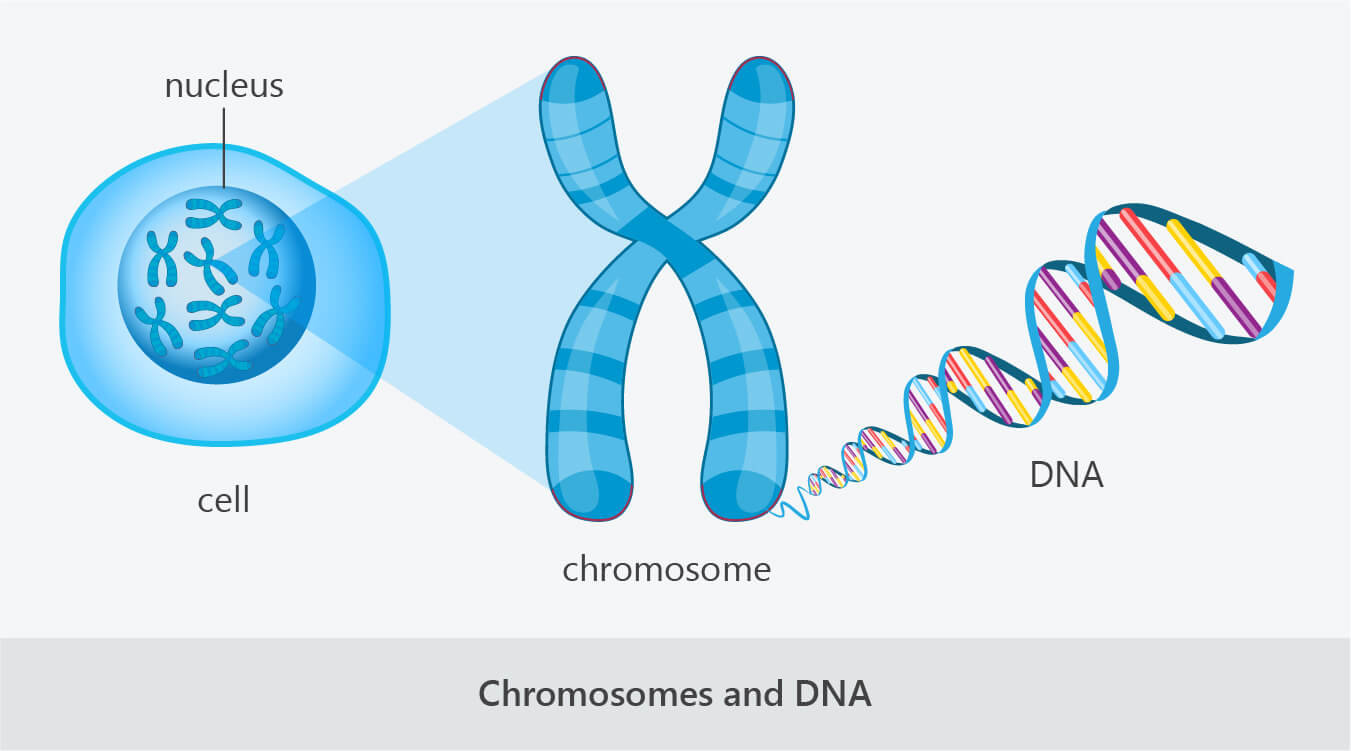 Cells contain chromosomes, which carry genetic information in the form of DNA.
(Image: fancytapis, Adobe Stock)
Nucleotides – The Subunits of DNA
DNA molecules are made up of

subunits

called

nucleotides

.
Nucleotides consist of

three parts

– a

sugar

, a

base

and a

phosphate

.
The sugar molecule is in the centre, with the phosphate attached to one side and the base attached to the other.
The sugar in nucleotides is called

deoxyribose

, which is why the full name for DNA is deoxyribonucleic acid.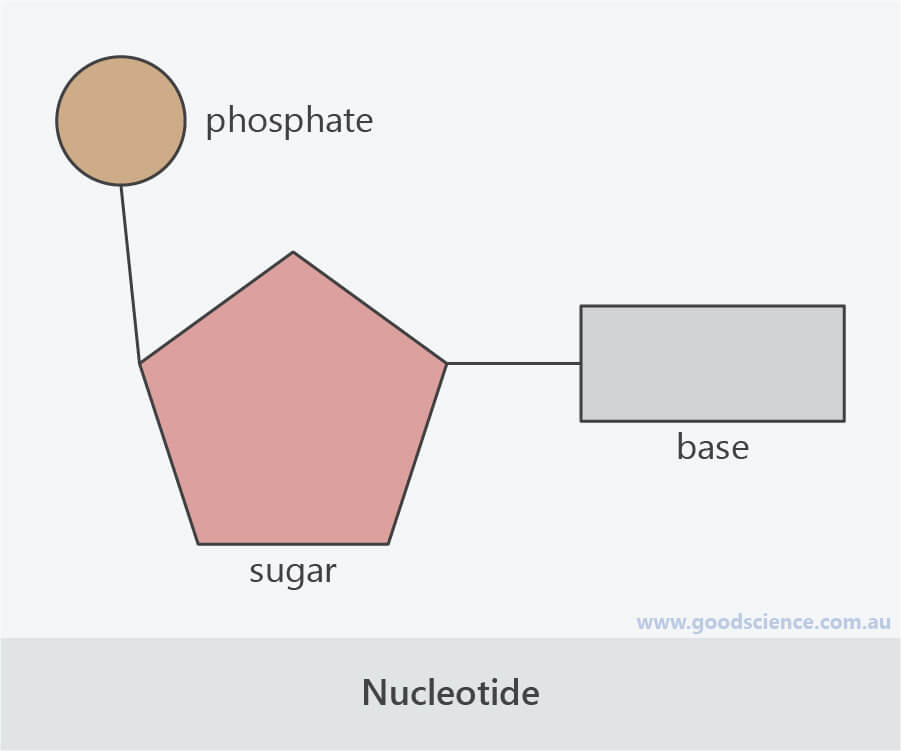 DNA molecules are made up of subunits called nucleotides.
All nucleotides in DNA contain the

same sugar and phosphate

, but there are

four different bases

, and consequently

four different nucleotides

.
The four bases are

guanine

,

cytosine

,

adenine

and

thymine

, but these are usually just referred to by their first letter –

G

,

C

,

A

and

T

respectively.
Since nucleotides differ only in their type of base, they are also referred to by the letters G, C, A and T.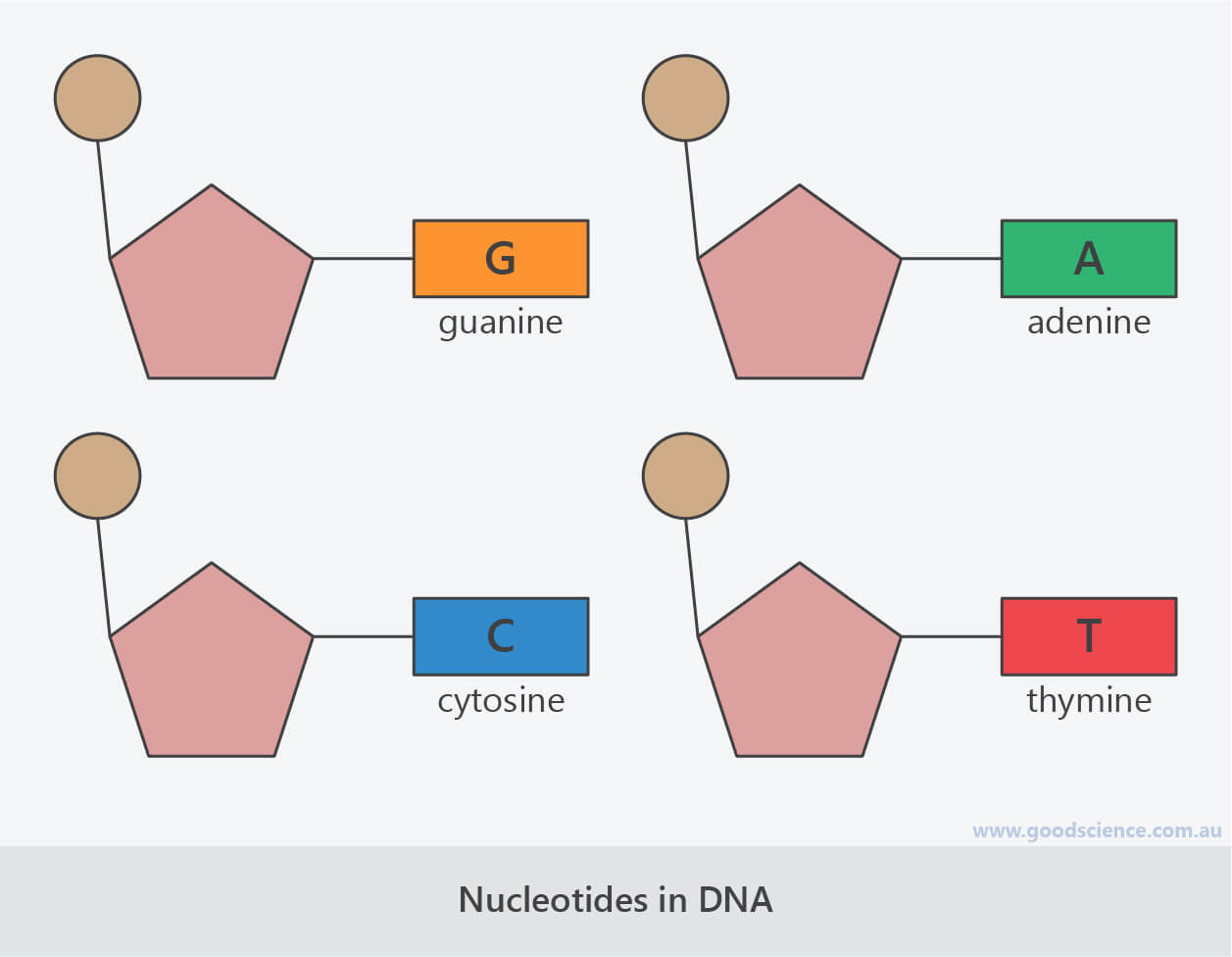 There are four different nucleotides in DNA – each with a different base.
DNA Molecules
DNA molecules consist of nucleotides that are joined in two ways – firstly, to form a

single strand

of DNA, and secondly, to form a

double strand

of DNA.
Single-Stranded DNA
Single-stranded DNA

is formed when nucleotides are joined by a type of

covalent bond

known as a

phosphodiester bond

.
These bonds form between the

sugars and phosphates

of adjacent nucleotides, creating what is referred to as the

sugar-phosphate backbone

of DNA.




Single strands of DNA are formed by covalent bonds between sugars and phosphates of adjacent nucleotides.

Double-Stranded DNA

Double-stranded DNA

is formed when nucleotides are joined by a type of bond called a

hydrogen bond

.

These bonds form between the

bases

of nucleotides on each strand.

The two strands are aligned in

opposite directions

, which is referred to as

antiparallel

orientation.

Hydrogen bonds are not full chemical bonds, but are formed due to

electrostatic attraction

between slightly positive and slightly negative regions of DNA. Therefore,

hydrogen bonds are weaker than covalent bonds

, which allows the two strands of DNA to separate during processes such as DNA replication and gene expression.




Double strands of DNA are formed by hydrogen bonds between bases of opposite nucleotides.

Base-Pairing in DNA

The hydrogen bonding between bases on different strands of DNA is known as

base-pairing

.

Base-pairing only occurs between specific combinations of bases, hence it is often referred to as

complementary base-pairing

.

• The bases

G and C

always pair together, forming a

G-C pair

.

• The bases

A and T

always pair together, forming an

A-T pair

.

These are known as the

base-pairing rules

.




Base-pairing in DNA only allows G-C pairs and A-T pairs.

DNA Double Helix

Once joined, the two strands of DNA twist around each other, forming a structure known as a

double helix

.

This resembles a

twisted ladder

, where the '

rails

' consist of

alternating sugars and phosphates

, and the '

rungs

' consist of

base pairs

.




A DNA molecule has a twisted structure known as a double helix.

The Genetic Code

The

order of the four different nucleotides

in DNA molecules, known as a

DNA sequence

, determines the

genetic make-up

of an organism.

This '

genetic code

' is the same for all organisms. Therefore, DNA differentiates not only individuals of a species, but all living things on Earth.

The genetic code works in much the same way as the 26 letters of the English alphabet, which code for all the English-language books that exist.




The sequence of nucleotides in DNA encodes the genetic make-up of all living things.

(Image: schulergd, freeimages.com)

Summary

Living things carry genetic information in large molecules called

DNA

(deoxyribonucleic acid ), which is packaged into

chromosomes

in the nuclei of cells.

DNA molecules are made up of subunits called

nucleotides

, which consist of a

sugar

, a

base

and a

phosphate

.

There are four different nucleotides in DNA, each with a different base –

G

,

C

,

A

or

T

.

Nucleotides can join together in two ways.

Firstly, nucleotides can join by

phosphodiester bonds

(covalent bonds) between sugars and phosphates, resulting in

single-stranded DNA

.

Secondly, nucleotides can join by

hydrogen bonds

(weaker bonds) between bases, resulting in

double-stranded DNA

.

The hydrogen bonding between bases on different strands of DNA occurs according to the

base-pairing rules

– only

G-C

and

A-T

pairs can form.

Double-stranded DNA molecules have a twisted structure known as a

double helix

.

The order of the four different nucleotides in DNA molecules determines the genetic make-up of an organism.




(Image: brian0918, Wikimedia Commons)

(Header image: svetlaborovko, Adobe Stock)